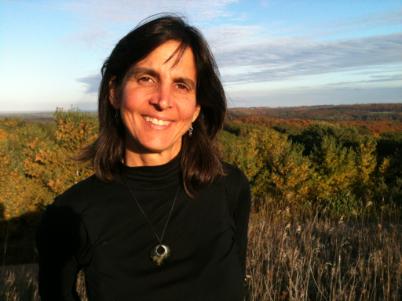 I am a magic-spotter and 'championeur'!
We are all 'wired' with special gifts and talents - super-powers, I call them -

that we are meant to share. I help you to see yours
and blow wind in your sails to 'own' them ever more confidently.
More than ever before, I believe

the world needs wimmin's super-powers NOW!!
I am also a Certified Professional Co-Active Coach (trained by the Coaches Training Institute (CTI)),
a facilitator and intuitive.
With over 20 years of experience working both one-on-one with individuals as well as with groups, teams and organizations including Outward Bound, Evolve Builders, Ship for World Youth, Katimavik and the National Coalition Building Institute, I have helped hundreds of people develop a much clearer sense of the difference that they are and that they make in the world around them.
I specialize in working with wimmin who feel called to make the world a more beautiful place - for all!
I help you to see the divine in yourself, to 'own' your unique gifts and talents confidently, and to see that it is, in fact, your job to share them with the world.
I prefer working and playing in groups- I see how it grows and solidifies connection as well as creates powerful support networks that makes our individual and collective work and play easier ... and way more fun!
The world longs for our more feminine approach to today's challenges.
Our time is NOW!
The adventure of your life awaits!

A little more about me, personally:
I've had a wild and diverse career path, shall we say!
It began with a Chemistry degree (a foiled shot at a dream to find the cure for cancer) - spiced with a taste for nature and adventure and led to a short career in Ambulance work in Alberta in the late 1980's followed by almost 2 years of travelling adventures by bike, thumb, foot, rail, kayak, plane, car & truck that began in Cote d'Ivoire on a Canadian Crossroads International placement, took me to England, Germany, France, Spain, Portugal, Denmark, Poland, Czechoslovakia, Austria, Italy, Tunisia & Algeria & across the Sahara into Niger, Burkina Faso & back into Cote D'Ivoire before heading back home. It was followed by a short stint with a food bank before landing the 'dream job' with Outward Bound! Woohoo!! I loved being paid to go camping with other enthusiastic humans keen to make an adventure of their lives! I got drunk on the magic that occurs when a group of people with similar intentions gather, when emotional and physical safety are cultivated and where people dare to risk, emotionally and physically, to expand their sense of who they are! It was indeed a grand time of forming who I was becoming. After the travels I'd experienced, the beautiful people I'd connected with, I felt awkward and limited by the monoculture of white middle class-ness I found there & ventured next into the world of diversity education & training to see if I could bring about change, landing at the New York City Outward Bound school. I also got an opportunity to be the National Leader of the Canadian delegation on-board the Japanese-sponsored Ship for World Youth which traveled throughout the South Pacific in search of celebrating diversity and growing rich international and lasting intercultural relations. Idyllic as it was, it served as the catalyst of a major burn-out/ break-down for me. I had held a huge vision for what was possible for this inspired crew of some 400-odd participants from 13 countries around the globe in 1999, on the eve of the turn of the century ... without the tools to enroll others in it. Breakdowns inspire change, and mine was no different - I launched into work with my hands, rather than with the messiness and vulnerability of daring to dream with other human beings. Instead, inspired by my interest in sustainability, I pursued workshops in permaculture, strawbale home-building & solar power and wound up spending the next 5 years building sustainable strawbale homes and developing my carpentry skills. The treehouse remains my all-time favourite project!! Eventually, my love of people returned! ... and my desire to make conscious conversations be at the centre of my life of service rather than just over lunch breaks or after work hours led me into the world of coaching. Which lead to leading workshops. Which lead to birthing Inspiration Convention in 2012. And IMAGINE ... in 2014. In 2018, menopause caused a shift in my chemistry, surfacing and exacerbating ADHD symptoms I'd had no idea I'd lived with much of my adult life. With it, juggling all the balls and wearing all the hats of self-employment I had, became unmanageable. I stepped away from that life, diving into deep introverted space, leaning heavily into my writing practice and nature for stability and insight for what would become 4 years, and reached out to find employment. I landed a position with Parks Canada, until the federal covid policy mandates collided with my best thinking and strong intuition. Gratefully, my brain seems to be regaining its capacity, and a journey with a career coach has guided me back to this work once again, this time clearer about my need for support through partnerships as well as my preference to work with women in groups. Looking back, I can see that throughout all of it, my journey has been informed by a much bigger spiritual picture, and serves as the bedrock from which I work with the people who find me. Together, we are on an adventure of birthing a new world, a new paradigm. WoooHooo! Now this is an adventure of a life time!