Leap of Faith!
take a bold leap of faith on behalf of your deepest calling!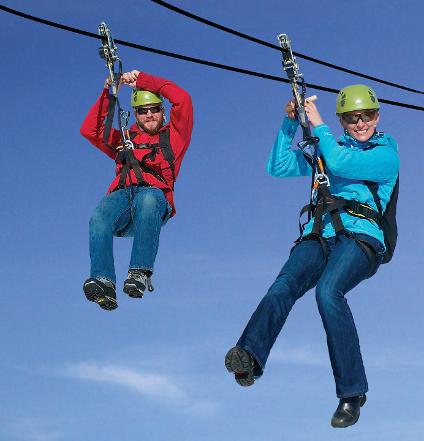 Join other adventurers
and take a leap
for what is most deeply meaningful for you ...
while we
make the world
a better place for all!
We'll spend the day among the trees, rocks & with a gorgeous view as we explore what matters most to you and what makes you come alive as well as what stops you from fully & authentically expressing your unique self before taking a courageous leap of faith on Canada's longest twin zip-line on behalf of it all!
At 2550 feet in length with a vertical drop of 287 feet, the Thunderbird Twin Zipline is an adrenaline-pumping half-mile thrill. You and a fellow evolutionary will ride side-by-side using dynamically controllable technology that allows you to control your own zip speed. Fly down at a speed of up to 60-70 km per hour ... or choose to take it slowly as you savour the view of this exquisite ride!
If you ….
love adventure ...
feel a call to contribute positively to the world around you ...
wonder just what your calling is ...
feel hungry to be in the company of others like you?
then this day is for YOU!
Expect to be welcomed into a tribe of adventurers just like you!
Expect to be a co-creator of the magic that happens when we gather with inspired intentions.
Expect your life to open … in magical and serendipitous ways.
And ...

expect to leave feeling lighter, clearer, more confident and powerfully encouraged
by your fellow adventure-inspired tribe-mates.

Sunday, August 13, 2017
10am- 4:30-ish pm
$165 +hst
includes your zip-line leap!
We'll share a potluck lunch. Other details will be revealed once you register.
Register Here!

Questions? Call me- Shelley @ 705-532-7375